Welcome Message from Chairman of Chin State Regional Tourism Executive Committee, Chairman of Chin State Administration Council
Auspiciousness to you all!
Warmest greetings from Chin State!
Located in the Western part of Myanmar, Chin State has a surface area of 13,907 square kilometers with 80% of its population living in rural areas.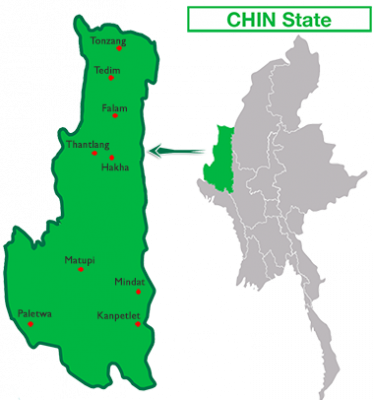 National Day

Chin National Day is celebrated annually on February 20th both in different townships of Chin State and all over the world where Chin people reside. It is an auspicious day to promote and show the unity and solidarity of the Chin people.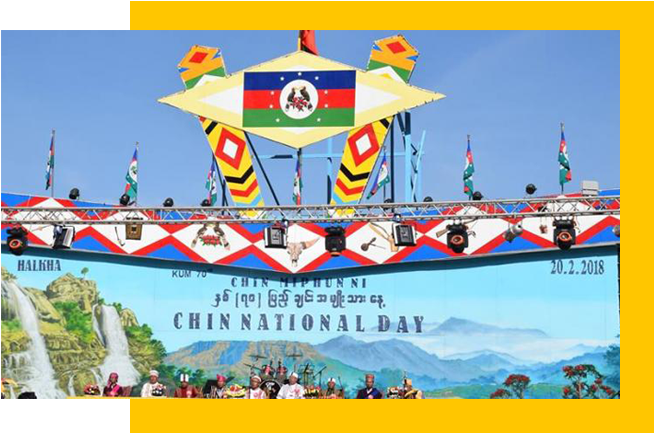 Khua Do Festival

Between October and the beginning of November
The most important sacrificial ceremony of "Khuado festival" is celebrated in Tedim township, the northern part of Chin State.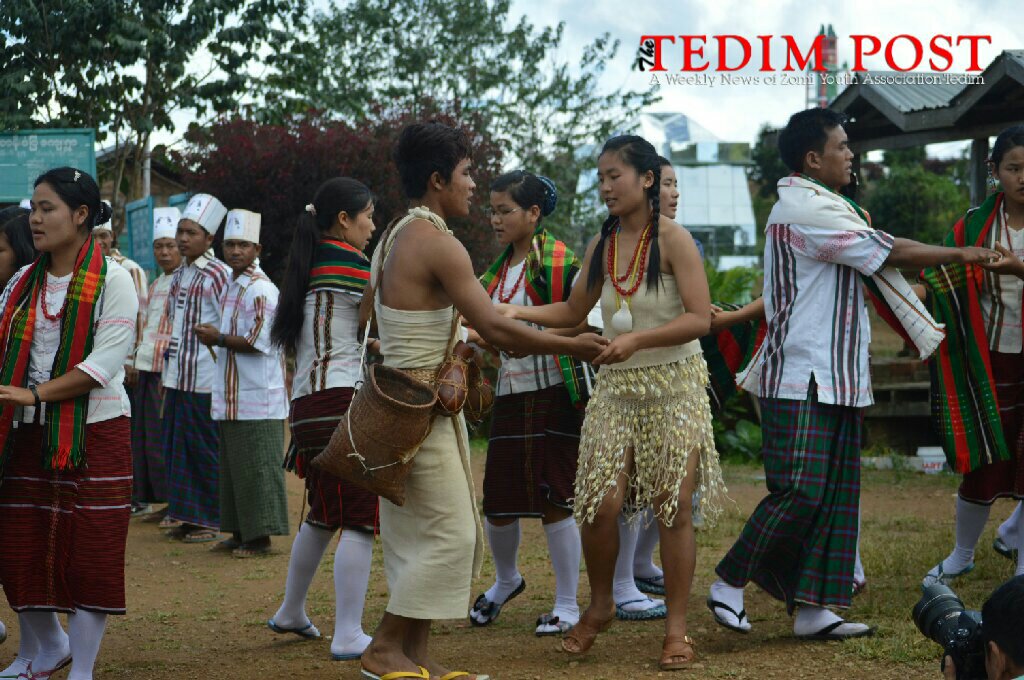 Khuang Cawi Ni

The word "Khuang Cawi" derived from the Chin language. "Khuang" means "mound' so the litter is built like a mound cabin structure in which the hostess would stand in majesty.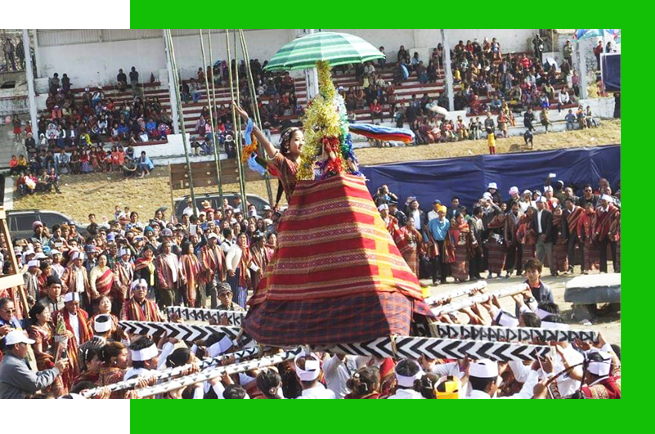 Traditional Chin Wrestling
Traditional Chin Wrestling
The husk of rice and millet were gathered on a flat ground to make a wrestling ring. One of the referees has to fire the gun in order to open the ring and to banish the evil gods from the ring.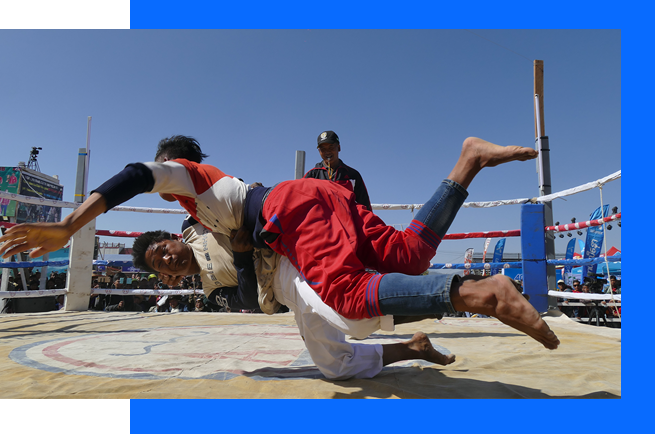 Loknu Culture and Rhododendron Festival
Loknu Culture and Rhododendron Festival

Loknu Culture and Rhododendron Festival are celebrated annually to promote Chin tourism industry, to conserve the environment of Mount Khaw Nu M'cung (Mount Victoria), and to reveal the culture of Loknu land at Kanpetlet Township, Chin State in 2020.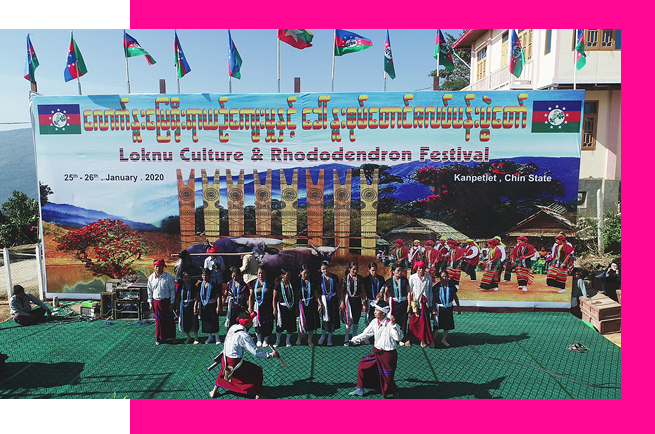 လုံယူးပွဲတော်
Lung Yu festival is the Munn Chin tribe harvesting festival celebrated by the only person with the best fertility of crops. Relative from near and far are invited to join the festival.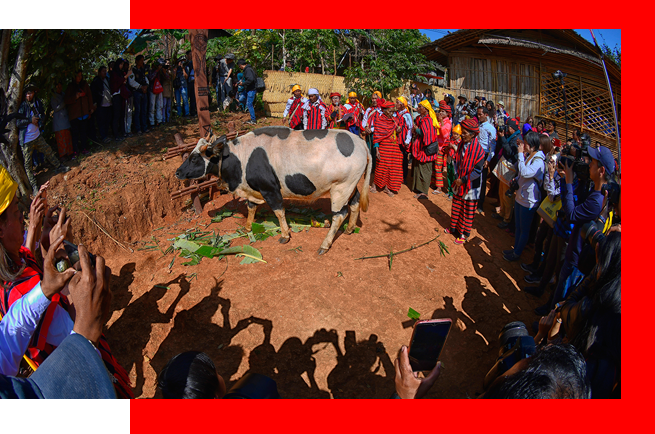 တောင်ဇလပ်ပန်းပွဲတော်

New Year festival is celebrated to be free from diseases and poverty with new mind and soul from everyone's home. At midnight, water which is not touched and drunk by birds and other animals is fetched and put as New Year water.
Traditional
Foods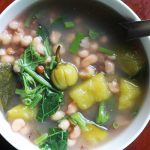 Etui
Dried and pounded corn or fresh corn is firstly boiled together with mython meat or mython bone.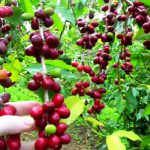 Chin Coffee
Chin coffee plantation takes place mostly in Tedim, Mindat and Kanpelet townships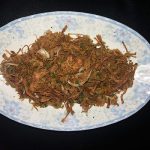 Chicken Salad & Mython Salad
Chicken salad is mainly served at tribal ceremonies and it is one of the main curries at home in Southern Chin State.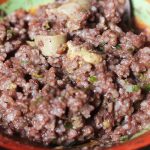 Meh Buh
Meh Buh is not only served at the festivals but also it is a daily meal of the Southern part of Chin State.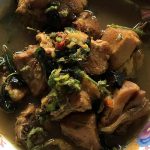 Pyar Hin
Ash curry is one of the most popular curries in the Southern part of Chin State.
Chin Traditional Wine
"Wine" is a well-known product of Chin traditional food. People proudly enjoy grape, wild peach, and rhododendron wine at festivals.
Travel informations in Chin State
Pratical
Informations