Welcome to
Mindat

township
in Chin State
Mindat is the easiest accessible town in Southern Chin State. It is only four-hour drive from Bagan which is the ancient city of Myanmar (Nyaung Oo). It is situated 1,500 m above sea level so it is as cold as the other parts of Chin State in winter and pleasant to travel in summer. The main ethnic groups dwelling in Mindat Township are K'Cho which differs as Mun, M'Kang and Dai. Mindat is one of the best places for trekking, hiking and interacting with local people. It is worth to have a visit there because of its amazing tattooed ladies, breath taking views and fascinating villages, and locally brewed millet wine. Local communities still wear traditional costumes, carry Chin basket and knives.  Many adorn themselves with their handmade bead necklaces, ivory and large traditional earrings.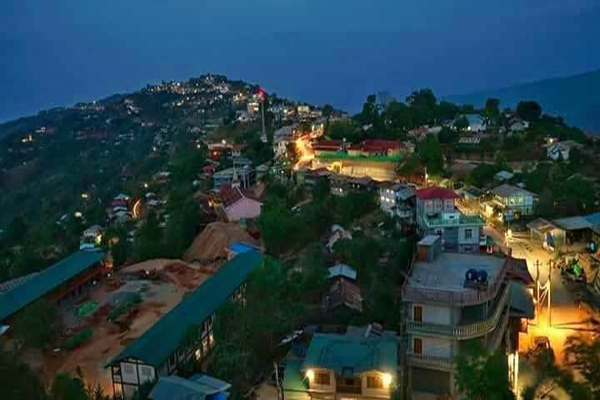 Accommodations in Mindat township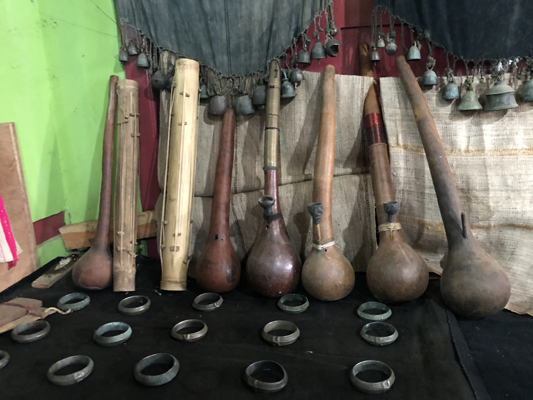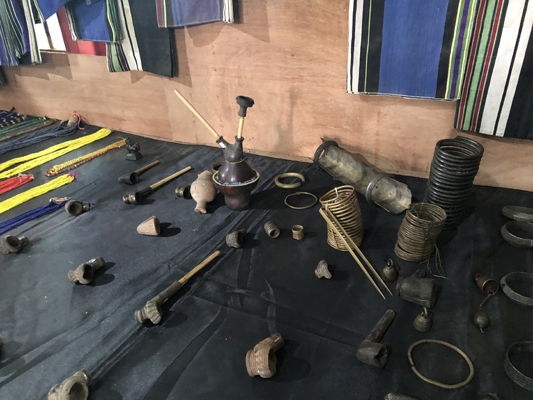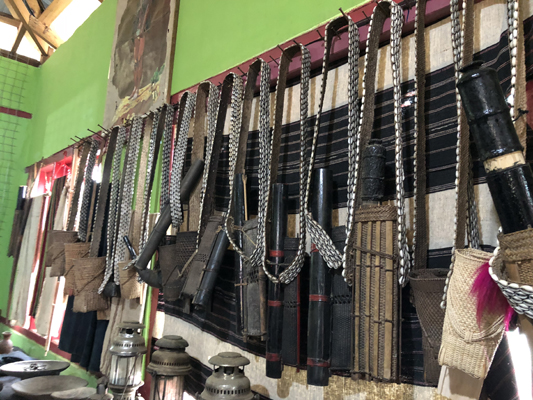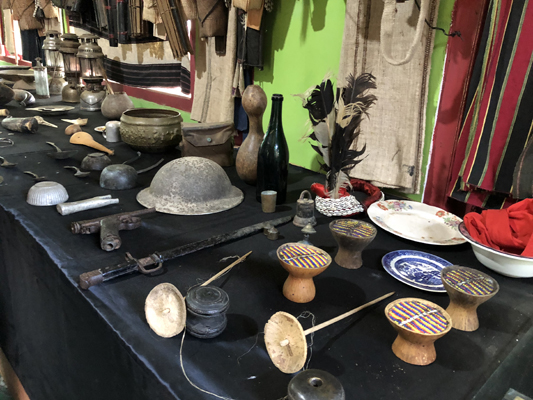 Chin Antiques and Culture Exhibition
Chin Antiques and Culture Exhibition was opened in at Bawatit ward, Mindat town, Chin State in 2010. The exhibition aims to conserve Chin tradition and culture in order to be observed by international and domestic travellers. In the exhibition museum, visitors can see the artifacts of Munn, Ma-kaang, and Dai tribes of Mindat Township. This fascinating and tiny house museum exhibits the diverse array of artefacts dated back to 17th Century, animal skulls, fossils, jewellery, enormous plug earrings, bamboo string instruments, ancient Pyu pipes, bracelets, military equipment of English and Japanese soldiers during World War II.
Mt. Victoria is called as Mt. Khaw Nu M'Cung in adoration by the locals. It is located in the western side of Myanmar, in the midst of Kanpetlet, Mindat and Matupi townships. It is the highest mountain in Chin State with the height of 10,200 ft above sea level. The Mt. Khaw Nu M'Cung national park covers an area of 279 square miles, was established as a National park to the tourists in 2010. It is recognized as the ASEAN Heritage Park which is the preserved area for rare birds such as White-browed Nuthatch, biodiversity of flora and fauna. This park is one of the most exciting Ecotourism sites in Myanmar, especially for pleasure travel.
Baung village is located in Mindat Township, 25 miles far from Mindat town. It takes one and half hour by car and one hour by motorbike from Mindat to reach there. Visitors can enjoy egg horoscope, traditional weaving, traditional tattooing, bamboo utensils in the village. Additionally, joining traditional dance and music performed with traditional bamboo musical instrument and wooden xylophone becomes one of the attractions of the village. Visitors can try traditional food such as Meh Buh, Etui, Chicken salad, yellow millet, and Chin khaung as well. The village is surrounded with interesting things: Kut M'shi Li lake to cleanse sins and to protect not to harm others because of one's sin,  Nau Hta Lung stone cave which foretells the funeral to be in the village with the crying sound of a baby, Bawng Sih salt well where animals can drink at full moon and new moon nights only when the salt is produced, a tree with shrine where hunters have to sacrifice when they get prey and calculate egg horoscope, memorial stones of each clan, Lone Yu memorial stones erected on annual Lone Yu festivals, Pho Bu rock cliff where villagers can hear the gong sound only at full moon and new moon nights, and Lun Kheh coastal rocks where beach wild flowers bloom beautifully. Community Based Tourism is to be implemented in this area soon.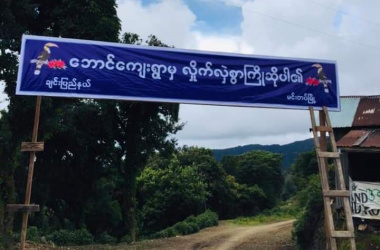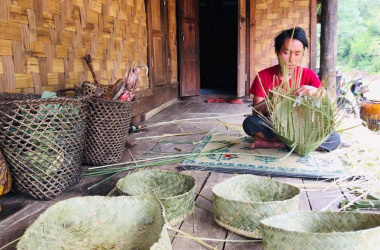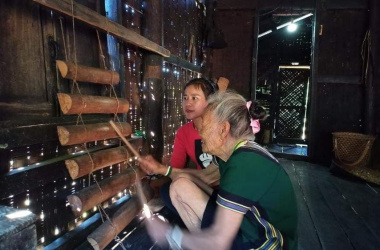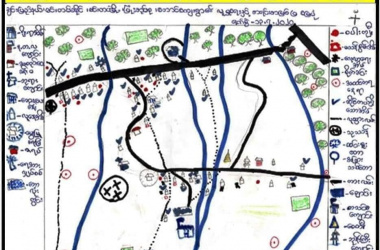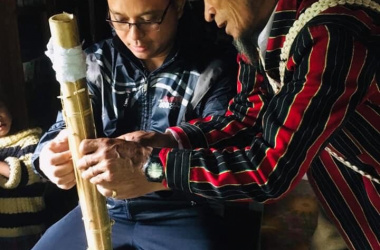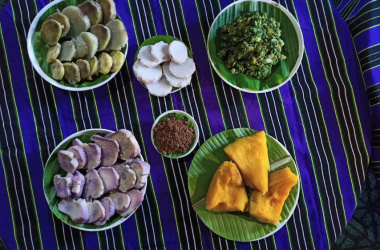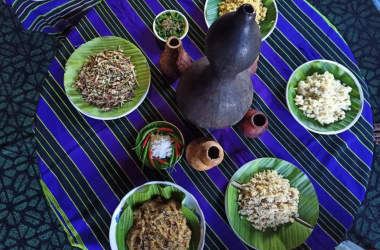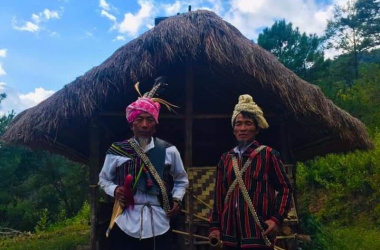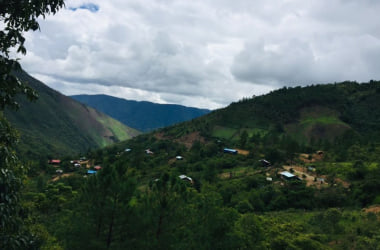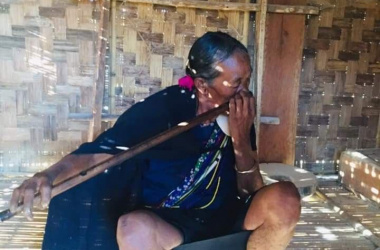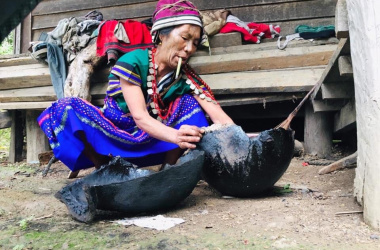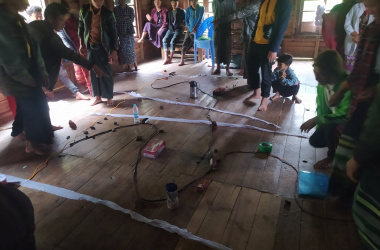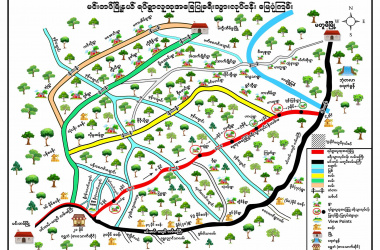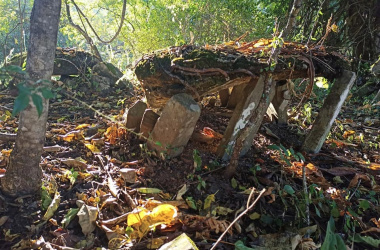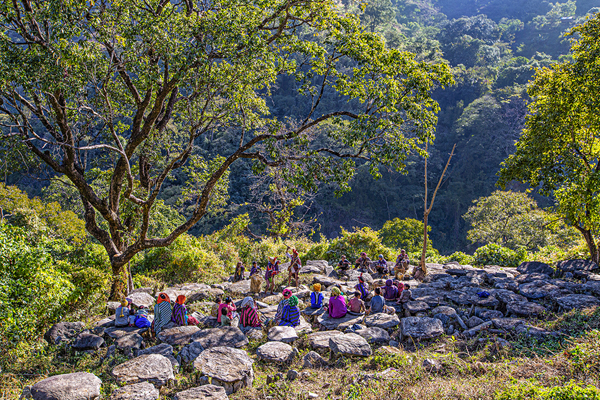 Kyardo village can be reached via Mindat-Kanpalet road and it is 12 miles far from Mindat town. It takes nearly an hour to arrive there by motorbike. Visitors can see Chin traditional house, memorial stones, rock pillar for gods, and Muing tattooed-ladies in the village. Interestingly, studying the rock pillar of gods and memorial stones becomes one of its attractions.
Liksawi village stands strong on the hilltop line of the confluence of the Phung lawng @ Lemyo River and Kyaw Lawng stream. The villagers speak one of Daai Chin dialects and Christianity is the major religion there. There is no public school in Liksawi village so the students must go and study in Khing Phoung village by walking about 3.220 km. The major livelihood is shifting cultivation and elephant foot yam farming is widely modernized now as the source of better income. The 5.65 km long forest ground with fantastic view can grasp the heart of the visitors.
Chin Face-Tattooed Ladies

Chin ladies are renowned for their intricate and remarkable tattooed faces. This tradition represents the courage, beauty and strength of Chin ladies. Bamboo skewers or thorns are used as tattoo needles. Then, a mixture of ox bile, soot, plants and lard is used as tattoo ink. Most Chin ladies in the ancient times had tattoos on their faces. It was believed that only women with tattoos were heroine. Actually, not every Chin women had tattoos. Chin ladies with tattoos can be mostly seen in Mindat, Kanpetlet and Paletwa townships. The tattoo patterns are different according to the ethnic groups they belong to.
Chin Traditional Wine (Millet Khaung)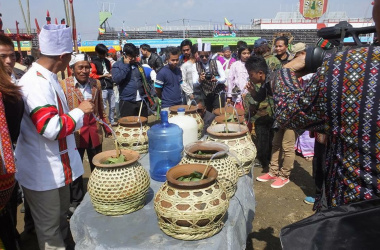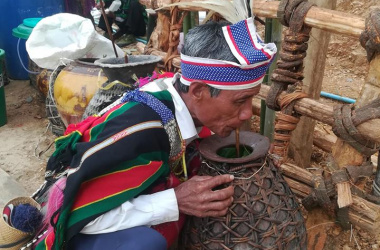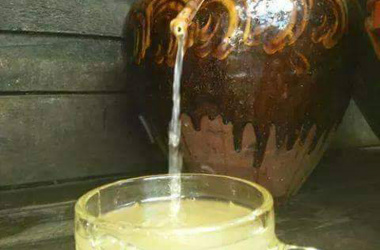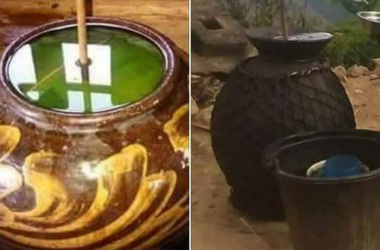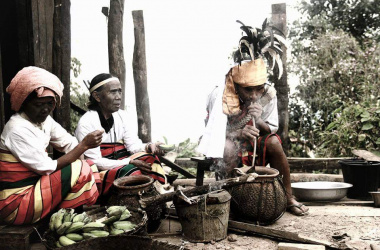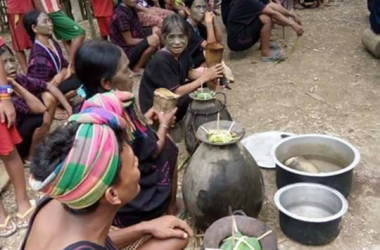 Chin traditional wine is a kind of alcoholic beverage and made locally from millet seeds, Rice and sticky rice. The taste of Chin Khaung is sweet, but a bit sour later. It tastes nearly the same with a mix of alcohol with grape juice and lemonade. Chin traditional wine plays a vital role in Chin culture. One boastful tradition is no refusal to the offer by the visitors when they are offered a cup of traditional wine by the host. In every festivals, Chin traditional wine becomes one of the most significant things to include.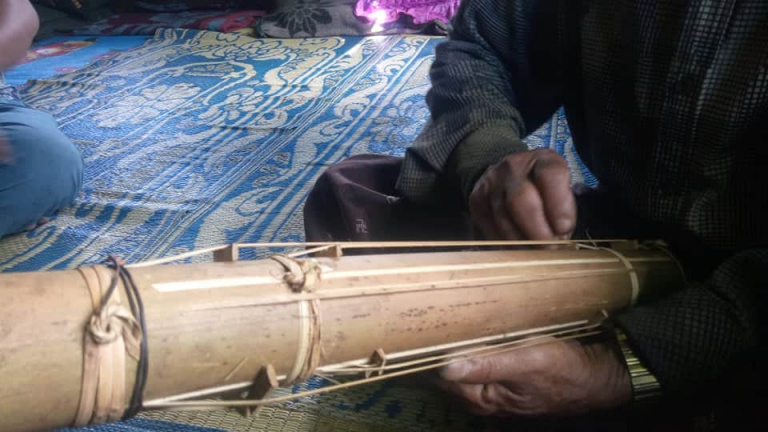 Chin ancestors played classical and traditional music with bamboo, called "Ting Teng" in Chin language, especially in the southern part of Chin State. Ting Teng music is performed with bamboo in five different melodies: Phui, Pan Kho, Lat Cho, Paih Polo, and Liklei Sehuai. Many youths played the music at the ancient Lone Yu and other festivals, funeral services by gathering under the moonlight for one or two weeks.
Nose flute of Southern Chin State becomes a worldwide known traditional music among most of the music in Chin State. Nose flute is played not only at festivals but also at harvesting and ploughing periods. There are different music for each occasion such as festivals, funeral service and love expression.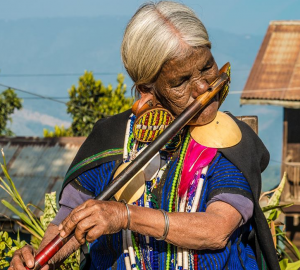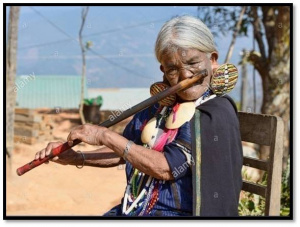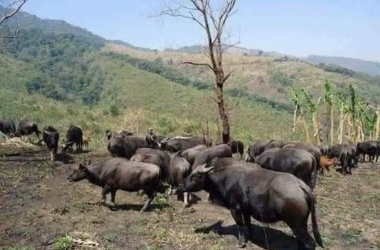 Mython is a very important animal for Chin people. They are usually breeded in thick forest, far from farm areas. In ancient Chin tradition, the number of mythons represented the richness of one person. Mythons were essential in Chin traditional festivals and they were used as the bride pride in matrimonial ceremony. Mythons are breed only for meals in Chin State.
Paangkawng Lung Sum (Memorial Stones)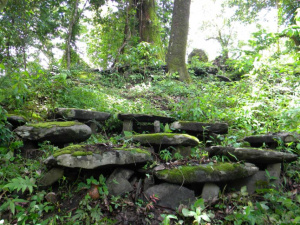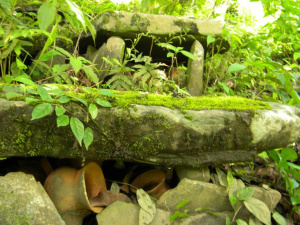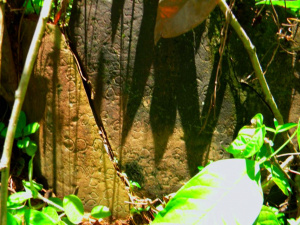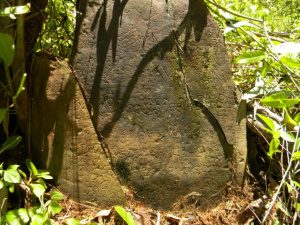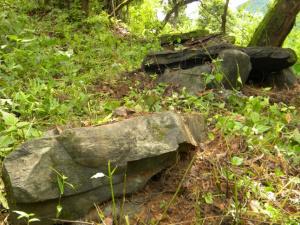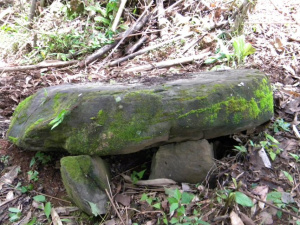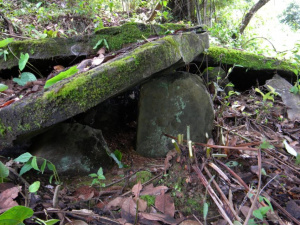 Paangkawng Lung sum is mostly seen in, Southern Chin State. The memorial stones "Lung Sum" profess that the ancestors in the village practiced the same customs in the earliest years. During the Demon worship decades, the villagers who followed the demonic beliefs had practiced the exercised the only one and restricted way of fire sepulture. According to their inviolable law of fire seputure, a dead body is burnt, then remained bones with some coals are put into the clay pot called Yu Am with banding hair from the back side of the pot with valuable attires from the front for women. On the other hand, all precious beads and hair are buried together with the Yu Am for men. Additionally, the more ancient huge memorial stones called Lung Delh of the Hukkhaw tribe which lies nearby the Paankawng Lung Sum makes the visit more interesting.